7. Other Major Strategic Players To Watch in Digital Health Ecosystem
---
Digital health ecosystem is rapidly evolving with many established players in the information technology domain jockeying to influence the future of healthcare. In addition to the companies mentioned above, there are several others that could be important players in the digital transformation of healthcare.
---
GE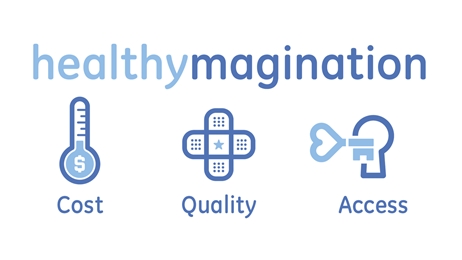 GE's focus on Industrial Internet is about bridging the industrial infrastructure and silicon valley and healthcare sector is an important part of it. According to GE: "Industrial machines have always issued early warnings, but in an inconsistent way and in a language that people could not understand. The advent of networked machines with embedded sensors and advanced analytics tools has changed that reality. For the first time in history, remotely distributed machines across the globe – from MRIs to wind turbines to aircraft engines – can be monitored in real time, unlocking the language of machines and opening tremendous benefits. Collecting and sifting through these bits of information unlocks new insights into how we can more efficiently and economically run our global economy." GE believes that about $100 billion of the nearly $750 billion wasted (inefficiency) in healthcare could be eliminated by Industrial Internet. Its "Healthymagination" initiative already has important mobile apps with more developments underway.
---
Cisco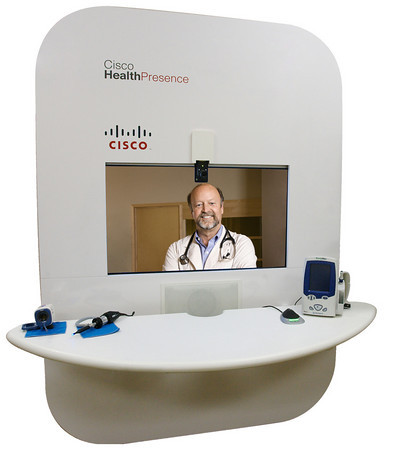 Cisco's focus on telepresence has application in healthcare. Labeled as HealthPresence, Cisco expects to play a central part in delivering healthcare across distance. According to Cisco: "Using the network as a platform, Cisco HealthPresence software integrates high-definition video, advanced audio, third-party medical devices, and collaboration tools. The software is a conduit, transmitting unmodified medical information end to end, helping to enable convenient access to efficient, high-quality patient care and clinical collaboration across any distance."
---
AT&T

The global telecommunications giant, AT&T is positioned to deliver mobile health and related services and solutions. According to AT&T: "We understand the various gaps in healthcare today, and have developed solutions to help address them. AT&T ForHealth solutions can help solve these challenges along the entire continuum of care — from acute care settings to home care settings. AT&T ForHealth was created to accelerate the delivery of innovative wireless, cloud-based and networking services and applications to help the healthcare industry improve patient care and reduce costs... These innovative solutions are focused on improving collaboration among providers, patients and the whole healthcare team — leading to a more integrated approach to healthcare delivery. We believe an integrated care model with fewer opportunities for gaps in coordination will help improve outcomes for everyone who touches the healthcare system. Whether it's our cloud-based solutions, health information exchange, mHealth or telehealth solutions, we're bridging the gaps in healthcare today." More recently, in february 2014, AT&T appointed Dr. Eric Topol as the New Chief Medical Advisor.
---
Samsung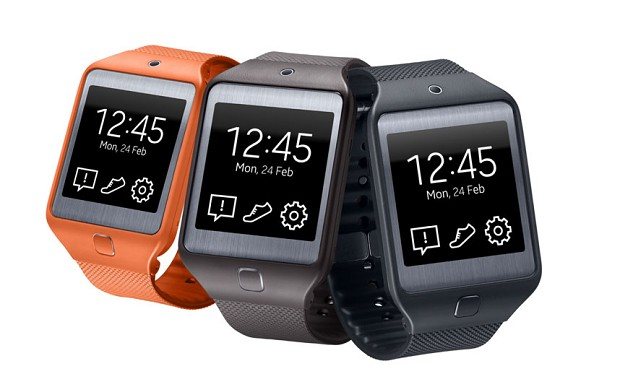 The Korean electronics giant has shown its commitment to digital health with major sponsorship of the Center for Digital Innovation at University of California at San Francisco in February 2014. Its flagship Galaxy smartphone already has apps focused on fitness as also its smart watch labeled as Galaxy Gear. Clearly, health is an important focus for Samsung--whose tablets, laptops and other medical diagnostics equipment (under the name Medison) are used in various healthcare facilities.
---
Qualcomm

QualcommLife--part of the Qualcomm Company--has designed and deployed the 2net platform. Its vision is "to be universally-interoperable with different medical devices and applications, enabling end-to-end wireless connectivity while allowing medical device users and their physicians or caregivers to easily access biometric data..."
---
Nintendo
In a corporate presentation in January 2014, the CEO emphasized the importance of health and Quality of Life (QOL) as key to its future. His focus was on consumer engagement--where Nintendo's historical core competence in designing and delivering compelling games that captured players' attention could be extended to healthy living.

---
Venture capital for digital health
There has been a lot of recent attention in Silicon Valley and elsewhere focused on digital health. The presentation from Rock Health provides a good summary of the 2013 trends. 

Rock Health is one of the focused companies in the digital health space to accelerate disruption and innovation with an impressive set of corporate partners such as GE, UnitedHealth, Kaiser Permanente, Kleiner Perkins (KPCB) and Fenwick. What role could silicon valley play in the future of digital health and what should pharmaceutical companies do to systematically tap into digital innovation beyond passive investments?
---
You are encouraged to add other companies that you believe could play critical catalyst roles in the digital transformation of the health sector.